Providing the public with the most accurate and up to date information and qualified personal injury attorney listings in their state to represent them.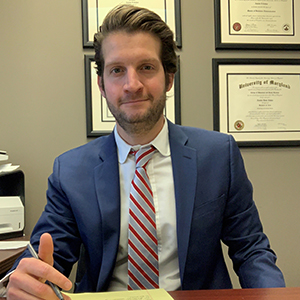 Austen E. Cohen
501 Fairmount Avenue, Suite 100
Towson, Maryland
21286
443-470-1012
www.srlegalgroup.com
Charter Member
Austen E. Cohen began vigorously representing Plaintiffs in 2019 after spending four years as counsel with a private investment bank. A lifelong resident of Maryland, Mr. Cohen was grew up in Baltimore County before attending the University of Maryland for his undergraduate degree. Mr. Cohen then attended the University of Baltimore, where he received his joint JD/MBA degree.
As a law student, Mr. Cohen served as a staff editor on the Journal of Land and Development, as well as a member of the Gibbons Criminal Procedure Moot Court Team. While in law school, he additionally spent a summer as an associate for the Department of Justice, prosecuting both civil and criminal matters. Mr. Cohen additionally volunteers his time working with the Pro Bono Resource Center of Maryland, advocating on behalf of clients in the tax sale, rent escrow, veterans affairs and immigration clinics. His current practice is concentrated on personal injury, workers' compensation, employment law and corporate matters.