Providing the public with the most accurate and up to date information and qualified personal injury attorney listings in their state to represent them.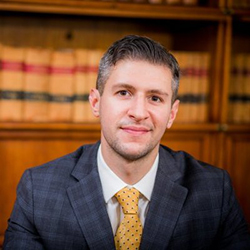 Justin M. Cohen
1913 Greentree Rd., Suite C
Cherry Hill, New Jersey
8003
856-751-7676
www.adamkotlar.com
Charter Member
Justin M. Cohen focuses his practice on the litigation of Worker's Compensation and Personal Injury cases in New Jersey and Pennsylvania. His aggressive style and diligent efforts have helped him to recover significant benefits for his clients. Prior to joining the Law Offices of Adam M. Kotlar, LLC, Justin worked in Philadelphia on substantial Personal Injury and Medical Malpractice cases. Justin's exposure to complex civil litigation matters from an early point in his career helped to cultivate and enhance his skills as a trial attorney.
Justin graduated from Rutgers University in 2011 with a dual JD/MBA degree. Justin received his Bachelor degree in American History from the University of Wisconsin-Madison.