Providing the public with the most accurate and up to date information and qualified personal injury attorney listings in their state to represent them.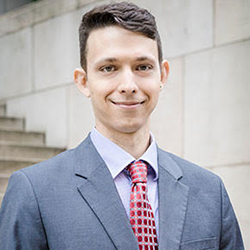 Samuel J. Pope
0434 SW Iowa St.
Portland, Oregon
97239
503-245-5677
www.rizklaw.com
Charter Member
Sam grew up in Lawrence, Kansas, a college town near Kansas City. Sam attended college at the University of Kansas where he studied biology, physics, philosophy, and chemistry before graduating with a chemistry degree. After college, Sam worked as a manager at Community Living Opportunities – a nonprofit entity dedicated to assisting people with learning disabilities.
After working at Community Living Opportunities, Sam moved to Portland Oregon to attend Lewis & Clark Law School where Sam served on the board of a student-ran group focused on personal injury law. In school, Sam also served on the board of his Law Review, prior to graduating Cum Laude. While in School Sam worked as a law clerk at Rizk Law PC, a personal injury firm dedicated to helping everyday people. Since graduating law school, Sam has vigorously represented injured people and their families at Rizk Law PC in personal injury matters ranging from minor car accidents to wrongful death.
Sam always, and only, represents injured people and their families - he never represents insurance companies. Sam's chemistry degree and science background help him identify key issues in cases involving medical malpractice, brain injury, trucking accidents, and other cases.
Sam is a lifelong soccer fan and player, and loves spending his spare time outside. Sam enjoys the outdoors by gardening, hiking, camping, tubing, and boating with his two dogs. He is learning to brew beer, make wine, bake delicious homemade sourdough bread, and how to pickle and ferment the excess veggies from his garden. Sam is also a lifelong animal advocate and enjoys volunteering at local animal shelters and sanctuaries when he has time outside of work.